(mergers & acquisitions)
unStructured
Case Study
Whether you are creating an HR function for the first time or are blending two organizations as a result of a merger or acquisition, we have experience in aligning and maximizing the HR team resources to support the business. Both approaches include either creation of or review of all HR policies, practices and team structure.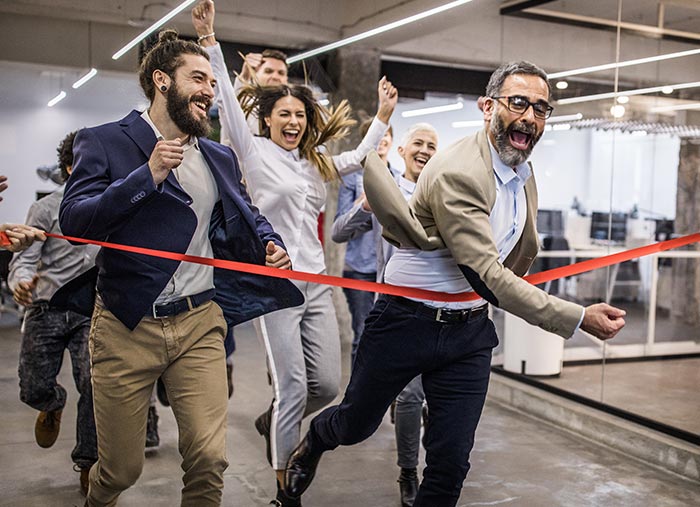 Situation
---
Integrate and elevate the Human Resources delivery, a decentralized Operations function across 15 states and 8,000 employees.
Plan of action
---
While benefits and payroll are centralized, the operations delivery of acquisitions, employee relations, training and development and succession planning were a decentralized responsibility.
In each market, evaluate team members which included 10 recruiters and 6 HR Business Partners and find operational opportunities for impact.

Within first year, replaced 5 employees and added Recruiting Manager to streamline recruiting practices.

Improved time to fill from $1600/hire to $200/hire.

Reduced days to fill from 45 days to 35 days.

Over four years, via implementing a Student Internship Program, partnering with 58 technical schools hiring 160 interns and subsequently 60% converted to employees, saving nearly $900k in OT.

Improved "on time" annual performance reviews from 68% to 88%.

Over six years, promoted more than 41% of HR team into bigger roles.

Successfully integrated 23 acquisitions in 24 months, a 12% increase in revenues.

In an industry where nearly 90% of healthcare workers are unionized, led efforts to ensure employee base remained union free.
Additional Information
---
HR Mergers & Acquisitions
HR mergers and acquisitions herald great changes for all parties involved. When handled well, human resources management acquisition finds a way to optimize talent and procedures to the best of their ability, the result of which is a smoothly functioning unified corporate entity. But without the best, most comprehensive HR post merger integration plan that the department can craft at the ready, the role merger can only result poorly.
Post Merger Integration Human Resources
Without a solid HR post merger integration plan in place, HR mergers and acquisitions can cause serious trouble. The issues that arise from poorly handled HR mergers and acquisitions can hurt a company's future, causing irreparable damage. These issues can be easily prevented, however, because the biggest issues seen in HR mergers and acquisitions are less business-oriented and more people-oriented.
Loss of key talent
Incompatible work cultures
Incompatible management style and services
Lack of communication
HR's involvement in a role merger is crucial for preventing these problems, and the long term consequences they will lead to. But these issues seen during HR mergers and acquisitions are on a much larger scale than the most pressing concerns of all-employee concerns.
Does this affect my benefits and retirement?
Will I fit into the new company culture?
Will I get along with my new manager?
How secure is my job?
Post merger integration human resources needs to remain mindful of these very real concerns and fears that the employees are experiencing following the role merger. Even with a strong HR post merger integration plan, HR's efforts won't amount to much if there is no attempt at identifying employee concerns and addressing them as efficiently as possible.
This especially true when it comes to fears over job security, as many employees may leave the company before the role merger is complete if their uncertainty isn't addressed. Should that happen, the company has the additional task of filling those vacant positions on top of all the other responsibilities and stresses that come with HR mergers and acquisitions.
We Have The Best HR Post Merger Integration Plans For Your Business
Human Resource Management Acquisition
While the employee's concerns are of extreme importance, HR is going to be grappling with their internal issues during the HR merger and acquisition. Having two HR departments during a role merger can be a double-edged sword. On one hand, it means a larger pool of knowledge to draw from. On the other hand, it means too many people bringing in too many opinions and ideas, which draws out discussions and debates. Meetings can feel bloated and human resource management acquisition may struggle to move forward.
Which policies need to be changed as a result of the HR merger and acquisition?
What will the new work culture look like? Is there a clash between the current cultures?
How will the HR merger and acquisition affect employees? How can it be made easier for them?
What are some policy issues that could lead to lawsuits?
These are a small number of questions that must be considered before and during the process of human resource management acquisition. HR mergers and acquisitions require lots of open communication and careful analysis of policies in place to create a thriving workforce and a post merger integration of human resources with a bright future.
Where We Come In
Our services blend creative problem solving and analytic strategizing to create the best HR post merger integration plan for you. Human resource management acquisition can be a very stressful time, but by utilizing our services you can mitigate a substantial amount of stress. Post merger integration human resources is a stepping stone to a business' future. It's time to begin your company's HR Development Let us help you start your HR merger and acquisition in the right direction.
When the ordinary solutions aren't working,
you may need unHR
---